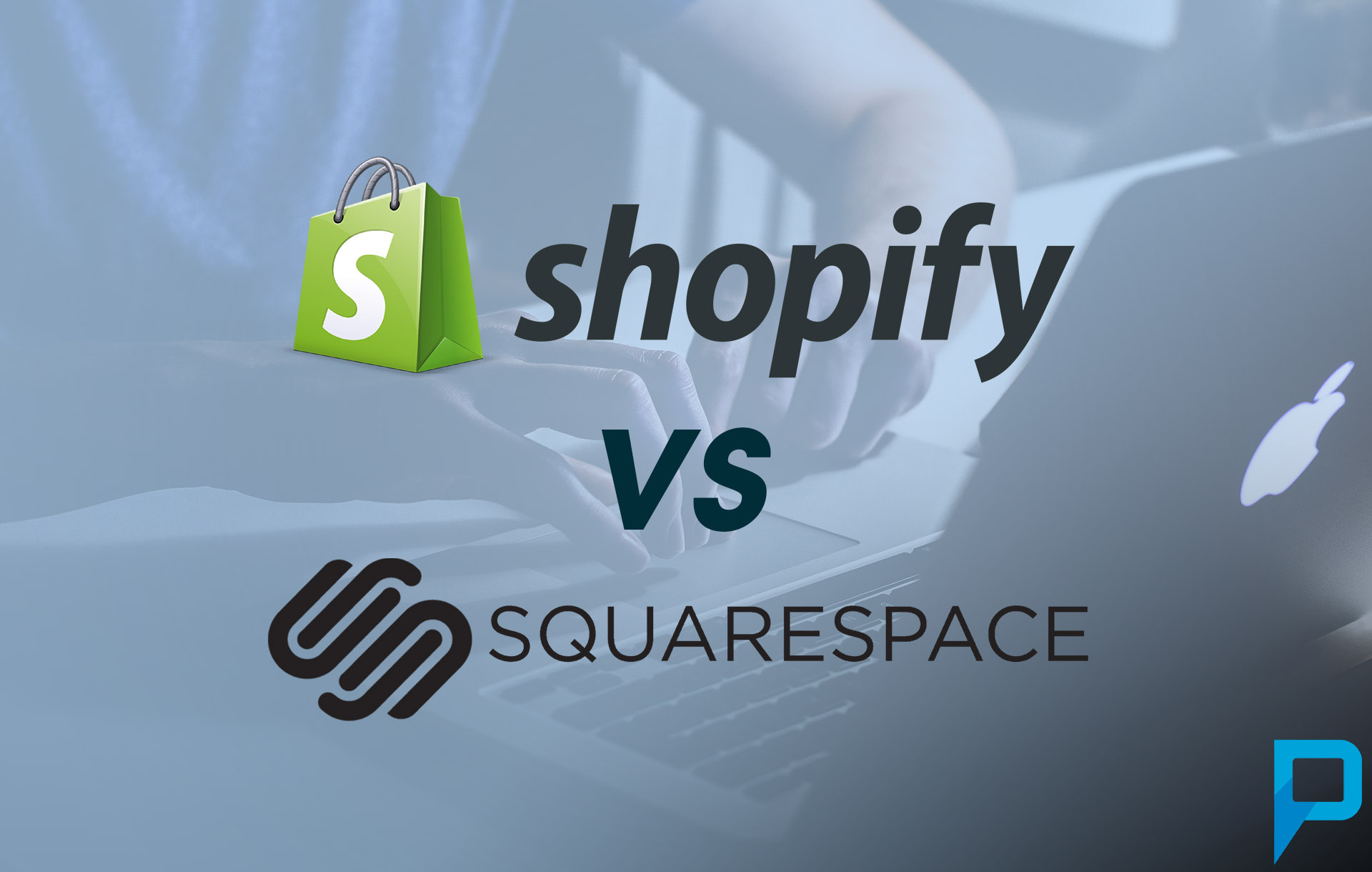 Finding a suitable e-Commerce platform could be a daunting task. Two platforms are currently contending for the top spot in the market. Both Shopify and Squarespace started out in an era when the internet was still a big, blue ocean. Businesses haven't joined in the bandwagon of promoting and selling their products online.
They wanted to capitalize on the potential of the internet so they created a platform that offers a space where businesses can grow through the digital realm. Shopify has a laser focus on online retailing while Squarespace allows users to build their website depending on their particular needs and only offering an online store option. That means, Squarespace enables businesses to spread their influence online whereas Shopify helps you establish your business online. We will explain that in a bit.
They both have benefits and risks. But which one of these platforms is better: Shopify vs. Squarespace? To help you understand which online platform could provide the best features for your needs, we have listed several key points comparing the performance of each platform.
Target Market
This is the main difference between the two platforms: market profile. Squarespace targets all sorts of users and entities, from bloggers to freelance artists and photographers, as well as entrepreneurs and businesses, large and small alike. Their web design and functionalities accommodate a wide range of purposes. They are not solely targeting e-Commerce businesses but only offering the e-Commerce as an add-on to their service.
Shopify, on the other hand, has selling as their focal point in their service objectives. They want to offer the platform solely for those who want to build an online store, and with that comes all the specific functions that any e-Commerce website needs. You can imagine Shopify as being a niche business because they serve mostly online retailers while Squarespace has a broader market.
Pricing
Having that bigger picture in mind, let us talk prices. Because they target two separate markets, their prices will vary greatly. By far, you can save more money if you would invest in Squarespace as their offerings are about half that of Shopify but the reason why this is the case again comes down to the objective.
Currently, Shopify offers three plans: Basic Shopify, Shopify, and Advanced Shopify with monthly prices of $13, $54, and $107 respectively. Compared to Squarespace which has a Business website offering and two online store offerings: Basic and Advanced. These are the only three in its selection equipped with features for e-Commerce. Their prices start out at $18, $26, and $40 respectively, if billed annually. Otherwise, monthly offerings are priced at $26, $40, and $46.
Functionality
So will the price be worth spending on for these offerings? If you take a look at their respective sites, they show which functions are included in the packages. At once glance, it might seem like Squarespace have more features compared to Shopify. But that could simply be a way to compensate for their lack of infrastructure to support a website specifically for online retailing.
In this regard, Shopify's simplicity would make it easier for you to get the essential things you need to set up your online store without worrying about the details, because you can rely on Shopify's value proposition that they will handle the rest of your needs. All the backend processing will be done by their team and you need only to worry about how to grow and manage your business.
User Interface (UI) & User Experience (UX)
In terms of layout, it might be slightly more tedious to set up Shopify compared to the smooth user interface design of Squarespace. Since it tries to accommodate as many varying users, Squarespace makes it more convenient when you build the site and has a collection of templates to choose from. However, that doesn't mean Shopify would be considered more technical than Squarespace.
Think of it in terms of Content Management Systems. In blogging analogy, Shopify would be similar to WordPress. It is more professional and functional but it would check all your specific needs and provide you with a better-looking outcome. While Squarespace, would be something like Wix or Blogger, which already has a template that you can customize based on your needs.
For user experience, Shopify seems to come out ahead with its faster upload times and more consistent and reliable response to changes you make on the site.
Payment Gateways
Another advantage that Shopify has being an e-Commerce centric platform is its network of payment gateways for shoppers to choose from. They have 100 payment partners from Ideal to Paypal and even bitcoin, depending on which is available in your specific country.
On the other hand, Squarespace only has Stripe, Paypal, and Apple Pay as their payment gateways. However, they do accept 20 different currencies.
SEO
Shopify also has a more streamlined system of integrating SEO into your online store. They automatically input meta titles and descriptions as well as make it easier for you to include other metadata and add a description when you hover on images.
It would take some more time to equip your site with SEO practices when you use Squarespace because you would have to do it all on your own. Furthermore, Shopify makes it easier for you to establish redirect pages when you change some of your links in the future, which leads search engines to the right pages.
Analytics
Depending on how you want your data presented, either one could have pros and cons for you. Shopify has Google Analytics enabled and connected to your online store so you can generate all the reports and track the data that you need. While Squarespace has it all in its system. They provide you with a single interface that gives you the same type of information.
But I would say that with Shopify, there are more specialized reports that you can do specific to sales transactions, which lays it all out in one summarized page. Since Squarespace is targeted for different types of web content, there may be some excess information that you would not need in the reports so you would have to filter through the data before you can get to what you need. Whereas in Shopify, it shows you which products are popular, where your visitors are coming from, and how many times they visit your site.
Being more geared toward different types of content, Squarespace has a wider range of social media connections. Apart from the big four – Facebook, Twitter, Instagram, and Youtube – you can link your accounts to different sources depending on what you are able to offer your consumers.
Social Media Integration
Shopify, on the other hand, has a select few in its social media group that they believe would be beneficial in growing your business. Shopify has affiliations with Facebook and Messenger, as well as Pinterest, Instagram, and Kik among others, all of which enable your online store to boost sales and spread your influence to your specific market.
Customer Relationship Management
When it comes to transactions and interactions with the customer outside of sales, both services are on equal footing with only a slight edge to Squarespace. Shopify uses Facebook and Instagram to push its ads. It also has an email marketing feature that sends out customized messages to customers for their purchases, trying out your new products, and availing of discounts.
On the other hand, Squarespace makes use of various tools like Mail Chimp in coordination with Google Docs to gather user data. They also have email campaigns and mailing lists that would make it easier for you to connect with customers and be more personal with them.
Mobile Integration
Shopify has better infrastructure that allows users to have a good experience using their mobile app. Since many consumers are on mobile than desktop, having this enabled and fully functional would be a big plus for your business.
In comparison, there have been complaints that Squarespace's mobile app loads a bit slow and can have the tendency to crash when you upload media onto it.
Web Hosting and Domains
Both platforms offer to host your site on their servers but Squarespace does give you a free domain if you subscribe to their annual offering. In contrast, Shopify allows you to use your own domain name if you have one available or purchase one through their package.
One advantage of having the option of buying a domain through a third party is the price. It can be much lower especially if you don't need to subscribe to their pricier offerings.
Customer Support
Last but not the least, we have customer support. Shopify and Squarespace have top-notch teams that respond to your queries 24/7. The only major difference is the number of channels that you can contact them with Shopify allowing you to reach out through phone, email, or live chat while Squarespace only uses email and live chat.
Not everything is smooth sailing though as Shopify only gives live chat sessions from 3 AM to 8 PM EST on weekdays but none on weekends. Their typical response time for emails is within 24 hours for the whole week.
Which Is Better?
For the purposes of this comparison, we only looked into the e-Commerce capabilities of these platforms and sure enough, we have seen how Shopify's features and infrastructure are better suited for businesses with a big focus on online retailing.
Squarespace has other features more suited for a variety of web content but because their resources are spread out, they cannot give all the support that Shopify can for e-Commerce sites. So, in that respect, Shopify wins.
Speak to a Shopify Expert today by contacting us. Click here to learn more about what we do.