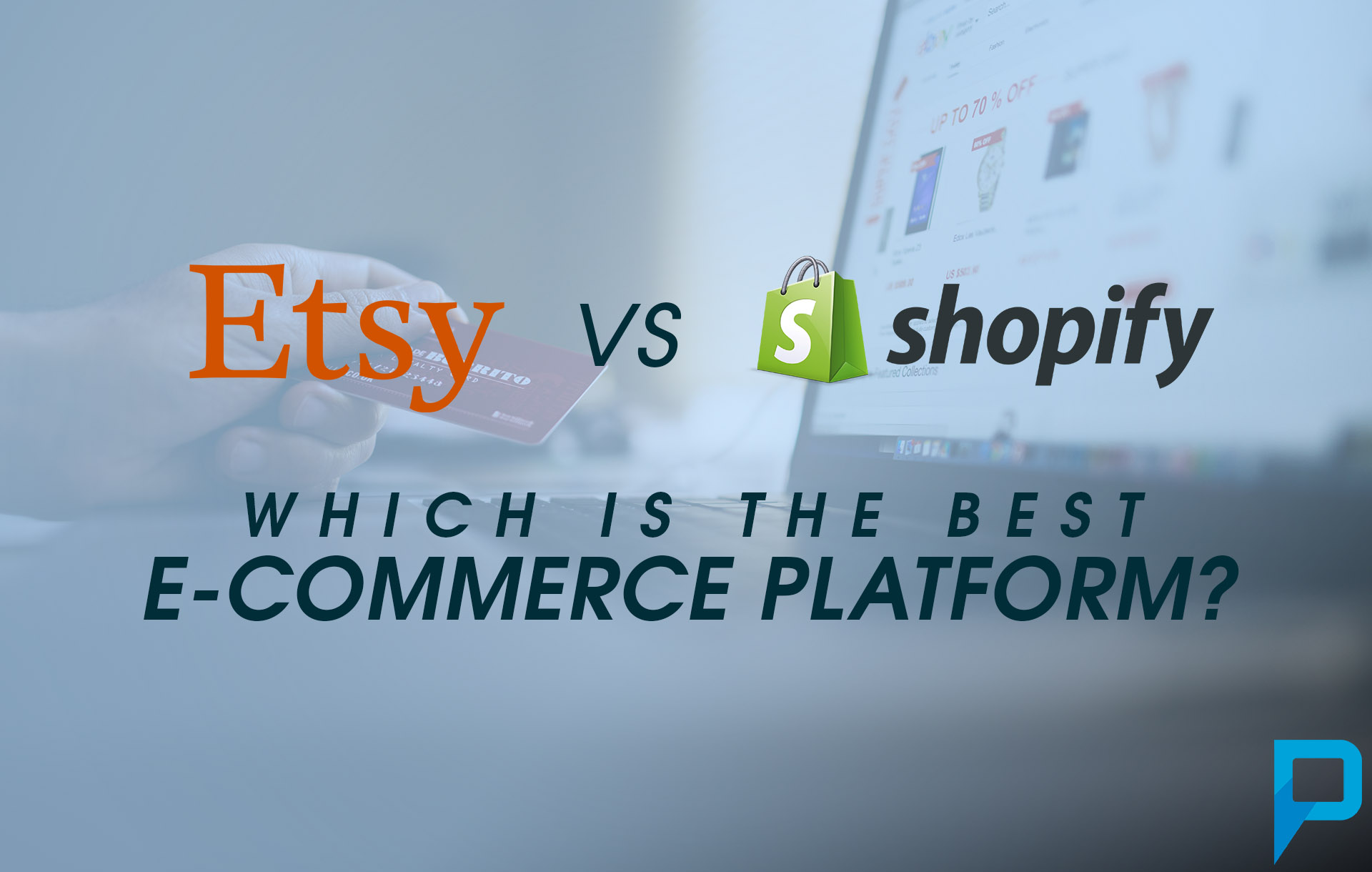 Etsy vs. Shopify: Which is the best e-commerce platform?
Picking the right platform to sell your products online is as essential as any other element in your business plan. Since there are many platforms to choose, you need to ensure you make the right choice. Some of the best platforms are Etsy and Shopify. So should you sell on Etsy or Shopify?
Both platforms serve millions of online sellers and buyers. However, they are very different platforms. Etsy is a popular platform that helps sellers and buyers from various scales do their transactions in a very friendly interface. On the other hand, Shopify is a web-store. It has powerful e-commerce features and tools for small and large businesses. Hence, both platforms are beneficial but are different in many ways. Below is a comparison between Shopify and Etsy.
Etsy vs. Shopify: Which is the best e-commerce platform?
1. Popularity and target audience
If you are planning to sell stuff online, Shopify and Etsy are the two main popular platforms you need to consider. However, you need to know that Etsy is an online marketplace and Shopify is a standalone e-commerce platform. This means you need to mind the products you want to sell and the target audience. Do you sell via a marketplace or do you establish your own web-store?
* Etsy is known as an online marketplace that focuses on handmade and vintage products. This means if you made crafts and other unique items, you sell them on this platform. You can quickly build your brand on Etsy. The site is user-friendly, making it easy for anyone to attract organic traffic.
* On the other hand, Shopify is one of the best platforms for promoting your items through a standalone website. If you want to establish a product line or brand identity, the best platform to consider is Shopify. Here, you will be provided with a user experience that you can control.
Verdict: When it comes to popularity and target audience, Shopify is the best. Also, having a standalone store makes it easy to target a specific group.
2. Customer Support
When selling items online, customer support is essential. Trustworthy, accuracy and time are the main factors that buyers rely on when purchasing products on the internet. Hence, if you cannot get good customer support, your potential clients can disappear.
* Shopify provides a wide range of support to its customers. The support is available through emails, live chats, and phone. In addition, there is enough information in live forums and tutorials to help you when stuck. Also, Shopify provides many educational videos on its YouTube channel. All this information is to help you address common issues.
* With Etsy, the tech support is through Etsy-Help-Center. This is a section where you can connect with the support team, read numerous articles, or browse their live forum.
Verdict: Whether it is a common issue or a complicated problem, getting the right support is very important. And with Shopify, there are various channels you can quickly get help.
3. Fees and pricing
For new sellers, it is essential to compare the costs and pricing of the two platforms.
* Opening an Etsy shop is free. But you are required to pay $0.20 for listing the items. Also, for every item you sell on Etsy, you are required to pay 3.5 percent of the transaction fee.
*With Shopify, the fees and pricing are different from those of Etsy. Here, there is a basic fee monthly fee of $29. Once you pay the price, you do not pay any other transaction fee. The cost includes hosting and support changes.
Verdict: Pricing and fees depend on you the seller. If you feel you can sell more items, the best platform is Shopify since you will get only a basic fee. However, if you want to test the e-commerce industry, you can start with Etsy and later move to Shopify.
4. Ease of Use
Another important feature you cannot ignore is the functionality of the platform. Every seller wants to be involved in a place that is straightforward, user-friendly, and easy to navigate.
* On Etsy, the functionality does not differ from others. The functions remain the same for all. This means shoppers can comfortably browse the items in an orderly manner. However, the feature gives the shoppers a quick, uniform, and systematic experience, seller, have a hard time when it comes to building their brands. Lack of customization in functionality and appearance limits many sellers.
* With Shopify, the ease of use and the convenience makes it the best platform for both the sellers and the buyers. The platform allows you to customize the features for easier accessibility. As a seller, you can determine the user experience of your web-store. You also have the power to promote your brand.
Verdict: Both platforms are user-friendly and easily accessible. But the advantage of customization in Shopify makes it more beneficial than Etsy.
5. Features and Flexibility
The available features and the flexibility of the platform help sellers promote their products and attract more potential customers.
* Shopify has endless features. With the provided theme, you have a wide range of built-in features, where some are more developed than others. In comparison to other platforms such as Etsy, the features are more than double of what others provide.
* When you go to Etsy, the features provided are only those needed for functionality. You can also incorporate third-party apps to synchronize with your store. You can integrate apps such as Facebook, Bing, Google shopping, and others with your store.
Verdict: When it comes to features, Etsy has just a drop of what you can find at Shopify.
6. Listing items
Etsy and Shopify are different platforms. Hence, they offer different methods of selling. Etsy is a marketplace while Shopify is a web-store. Since both offer different pros and cons, you decide to sell on both platforms.
* Etsy is a nice place to open your items to a wide audience. This is something you cannot do on your own. But a marketplace is price sensitive and very crowded. Losing control over your brand is possible.
* On the other hand, Shopify is web-store. This is a place for someone who wants to grow his brand. If you feel you want to create your brand and you want to list all your items without restrictions, Shopify is the best place to develop your items.
Verdict: Etsy has many potential buyers than Shopify because it is a marketplace. However, its platform is very price sensitive.
7. Design
The design is another feature that can easily attract customers. Every seller wants to have a professional look when selling his or her items online. Therefore, this is an essential factor to consider when comparing both Etsy and Shopify.
* Etsy structure provides a professional looking shop. The design is outstanding. Besides, Etsy has an app that makes sure clients have a great experience even on mobile platforms. Also, all the shops on Etsy have the same design. However, there is no customization on Etsy. This is one of the problems with the platform. People cannot market their brand.
* With Shopify, the design is in another level. The benefit of custom designs helps to promote brands and attract more potential buyers. With this platform, there are more than 100 themes (both free and paid themes). Besides, all the designs are made. You can also twist an idea with header, images, footer, color schemes, and slideshows.
Verdict: Design and other features make Shopify more appealing than Etsy. You can customize your store in Shopify but not in Etsy.
8. Marketing and SEO
SEO is the heart of online marketing. You cannot survive online without considering Marketing strategies and SEO. Happily, both platforms have considered the factor, and you can easily bring in visitors to your shop.
* If you plan to sell your items on Etsy, it is possible to bring customers through various marketing strategies. This is a positive move since there are millions of sellers on Etsy. However, the way Etsy is designed; it is possible for a potential buyer to be tempted to view your competitors' items. This might be heartbreaking to new sellers or people with a few items to list.
* But with Shopify, marketing strategies are different. Since this is a standalone business; any marketing method can only affect your business. And since Shopify has a wide range of features and tools, it is possible to market your shore and drive more online traffic.
Verdict: Shopify is the best platform for someone who wants to exclusively market and attract buyers to his or her site.
Bottom-line
Before you enter into E-commerce world, you need to understand it very well. Know your business goals, your target audience, and the best platform to promote your items. Keep in mind that it is impossible to sell products online without proper digital marketing strategies.
For someone testing online marketing, Etsy might be the best platform. The platform is cheaper than Shopify, and you do not need to customize your shop. But if you feel you have a brand that can stand out from the rest, Shopify is the best choice. It offers a wide range of features and tools and needs some skills to create a reasonable online shore.
Speak to a Shopify Expert today by contacting us. Click here to learn more about what we do.